MEO XL Party: vigésima segunda edição do festival atinge novo recorde de visitas
O gosto pelos videojogos já atinge várias gerações e, para os mais velhos, também estiveram presentes projectos que aliciam uma experiência de jogo mais emotiva e pretendem mostrar aos mais jovens o lado histórico dos videojogos.
Along with the growing popularity of the Raspberry Pi, we've also seen a related uptick in MAME arcade cabinet builds. Putting this $35 computer in an arcade cabinet makes a lot of sense, but connecting it to one of the monitors found in old arcade cabinets is a bit of a pain. Luckily, [Celso] figured out how to 
connect a Raspi to one of these 15kHz RGB monitors
, making for a much more accurate emulation of old arcade classics.
Este programa é totalmente dedicado à 6ªedição do Sapo Codebits, o maior evento de programação realizado em Portugal que foi visitada pelo jornalista Hugo Séneca.
PC Gaming – Projecto português Sega Rally Championship RC Cars já é uma referência a nível internacional
O projeto Sega Rally Championship RC Cars, desenvolvido por The Arcade Man e pela Artica, está a dar que falar nos meios de comunicação internacionais. O Tech Crunch, o Engadget, o portal UOL já escreveram sobre a aventura.
O projeto português que junta o revivalismo das máquinas de arcada e a robótica, desenvolvido em conjunto por The Arcade Man – www.thearcademan.net – e pela Artica – www.artica.cc – teve destaque internacional nos principais meios tecnológicos.
Gizmag – Sega Rally cabinet hacked for racing RC trucks
Of all the ways to catastrophically break a Sega Rally Championship Arcade cabinet, Artica's hack at Portuguese hackathon Codebits earlier this month must surely go down as the most creative. With the addition of an Arduino board and an XBee RF module, the cabinet was made to race two camera-equipped radio-control trucks around the floor at Codebits VI.
TG Daily – Sega Rally arcade cabinet controls RC cars using Arduino
If you're a true child of the 80s and spent time at the arcade, well, you probably remember classic driving games such as Sega Rally.
Interestingly enough, some enterprising geeks recently took an old Sega Rally arcade cabinet and revamped it with Arduino-powered tech – effectively creating an uber-cool remote to control model cars using the original  arcade steering wheel and pedals.
GEEK.com – Arduino-powered Sega Rally arcade cabinet drives actual RC car
Gone are the good old days of arcades, but if you pay attention to the games modding scene, you've probably noticed that arcade cabinets are used for projects quite frequently. This time around, rather than someone modding an arcade cabinet to house current-gen systems or to contain every NES ROM ever released, Artica and TheArcadeMan teamed up and modded a Sega Rally Championship cabinet to control an actual RC car.
Engadget – Arduino project has Sega Rally cabinets steer RC cars: like the game with more bruised ankles (video)
We've seen attempts at recreating video game racing in real life. For Artica and The Arcade Man, there's no desire to preserve the illusion — they've jury-rigged two Sega Rally cabinets to control the strictly real-world racing experiences of RC cars. Their two-machine setup from the recent Codebits VI event in Portugal yanks the original arcade computing power in favor of an Arduino-powered system that maps the steering wheel and pedals to the tiny vehicles through a wireless Xbee link.
Engadget German – Genialer Gamehack: Sega Rallye trifft RC-Auto (mit Video)
Der Arcade-Renner Sega Rallye ist durchaus ein moderner Klassiker der Spielhallengeschichte. Da das Game aber ein bisschen in die Jahre gekommen ist, dachte sich der portugiesische Hacker Luis Sobral (The Arcade Man), dass es Zeit für ein Update wäre und hat sich mit der Robotikfirma Artica zusammengetan, um mit Hilfe von Arduino, Kameras und diversen RC-Autos ein Echtzeitrennspiel zu bauen.
UOL – CodigoFonte.com.br – Hacker de hardware apresenta modificação do clássico Sega Rally Championship
O hacker de hardware Luis Sobral, também conhecido como The Arcade Man, juntamente com a companhia de robótica Artica, criou uma modificação do clássico arcade de corrida Sega Rally Championship.
IDG.SE – Modprojekt byter rally till radiostyrning i Sega Rally
Racingklassikern Sega Rally får sig en modifiering där arkadkabinettet används för att styra riktiga radiostyrda bilar.
Techcrunch – Sega Rally Arcade Machine Mashed Up With Remote Control Cars For Real Racing Robotics
Sega Rally at the arcade was a blast when I was growing up, and it probably still is, though I haven't played it in a few years. But Portuguese hardware hacker Luis Sobral (aka The Arcade Man) and robotics company Artica made it even better during the recent Sapo Codebits VI conference by introducing remote-controlled cars into the mix, along with cameras and an Arduino receiver to grab transmitted acceleration, braking and turning commands relayed from the arcade cabinet.
Let's Make Robots – RC Sega Rally @ Codebits VI
This was our proposal to Codebits! To have an arcade game where it would be possible to drive two cars and participate in a real race, without any simulations or complex algorythms, neither 3D graphics.
BGamer: Luís Sobral: o homem que recupera arcades
Sobral expôs o seu trabalho na edição deste ano do Sapo Codebits, e mostrou ao mundo como funciona o processo de modificação das máquinas, deixando inclusive que elas fossem experimentadas.
The Arcade Man, é um entusiasta de máquinas arcade desde "miúdo". Agora, "com uma garagem cheia de arcades", dedica-se a recuperá-las e a conferir-lhes novas funcionalidades. As suas máquinas estiveram presentes nesta edição do Sapo Codebits, e o GameOver teve a possibilidade de falar um bocadinho com ele.
Sapo CODEBITS VI – A maior festa geek do ano!
O Hardware Den é o espaço dedicado aos amantes dos Arduino, Raspberry Pi, impressoras 3D e até máquinas de jogos de arcada, recuperadas pelo Arcade Man. No entanto, é o jogo de carros construído pelo Arcade Man que chama a atenção. Juntando câmaras a um carro telecomandado, é possível controlá-lo no conforto de uma máquina de arcada, usando volante, mudanças e pedais. More
Codebits2012: O saudosismo está de volta no espaço arcada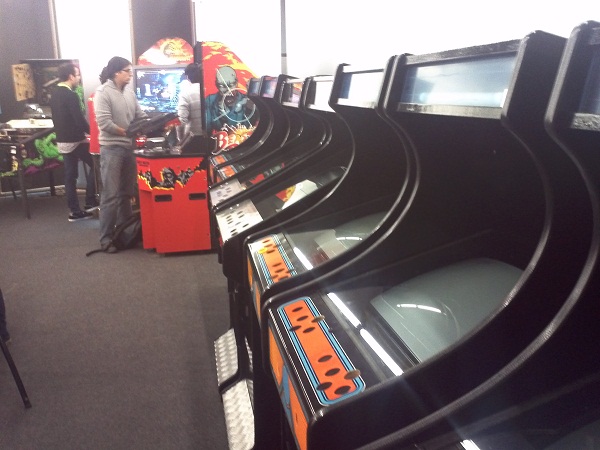 Na sexta edição do Sapo Codebits existe um espaço dedicado às consolas de arcada, máquinas que dominaram o mundo dos videojogos na década de 80 e no início da década de 90. O espaço está à responsabilidade de Luís Sobral, o Arcade Man, que tem dedicado os últimos três anos à recuperação destas consolas. More
Sapo Codebits VI – SIC, Jornal da Noite